Self Leveling Cement Floor(KS-SZ)
Scope of adaptation:
1, tile, vinyl plastic panels, linoleum, rubber flooring, Epoxy Flooring layer of the leveling layer.
2, warehouse ground, parking, forklift work area and other ground hardening treatment. KS-SZ40 can be used as cement-based ground hardening materials, but also with epoxy resin, PVC and other production of composite flooring.
Performance characteristics:
1, fast curing
2, construction is simple
3, the volume stability
4, self-leveling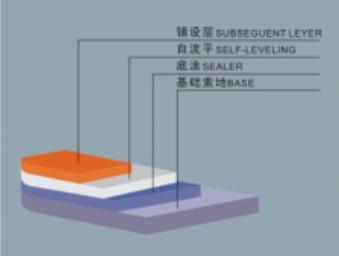 Technical index:
ITEM

MODELS

KS-SZ20

KS-SZ30

KS-SZ40

Compressive strength

1 day

≥8Mpa

≥12Mpa

≥18Mpa

28 day

≥20Mpa

≥28Mpa

≥35Mpa

Minimum thickness

3mm

3mm

5mm

Thickness

5mm

12mm

12mm

Accessible Time

People`s Bank Time

20℃~35℃

20℃~35℃

20℃~35℃

8~12hours

8~12hours

8~12hours

Laying Can Time

24hours

24hours

24hours
Construction technology:
Base treatment
1, the new concrete or cement-based at least 21 days after the curing time, and humidity should not exceed 80%;
2, the surface of the base surface should be kept clean, solid and no pollutants, such as: mortar and paint
Curing Agent
, grease and so on. The excessive floating pulp, sediment, it is best to use mild grinding and rough cut;
3, for all the pores and the depth of more than 2mm surface, should use a special repair mortar be repaired, it is recommended to use KS series repair mortar.
On the bottom of the oil
1, near the bottom of the oil before the film thoroughly clean the grassroots surface. Remove any remaining dust or other loose material;
2, after cleaning, with water treatment base, so that the base surface to keep moist;
3, the base oil can be a large brush or mop brushing the end of the oil, the general brushing twice, the first brushing the bottom oil evenly applied to the base surface, shall not ignore any base surface to be processed. The second time, wait for the first brush the end of the oil dry, the second brushing, if the porous base, but also for the third time at the end of oil, so wait for the end of oil dry before pouring KS series of self-leveling.
mixing
1, according to the proportion of accurate weighing clean water into the mixing vessel, must not add excessive water to increase work performance;
2, slowly adding KS series of self-leveling, stirring with a blender 3-5 minutes until the formation of milky slurry, and then within 2 minutes the liquid slurry pouring to the base surface;
3, quickly with a spatula KS series of self-leveling spread to the surrounding to make it to the construction requirements of the thickness of the roller with a nail roller rolling, the slurry within the gas discharge, but do not over-rolling and wiping self-leveling;
4, in order to reduce the construction joints, to continuous casting, the middle of the pause time shall not exceed 2 minutes, the floor thickness to be obtained in a casting.