Metal Floor Hardener
Scope of adaptation:
Warehouse, Terminal Loading Area, Machinery Plant, Aircraft Tarmac, Garages, Parking Lot, Oil Storage, Passageway, Factory Chute Deck, Reservoir Spillway, Energy Dissipation Pool, Loading and Unloading Slopes, Military Industry, Textile, Freezer, Automotive Industry , The electronics industry, highways and other concrete floor suitable for metal aggregate requirements.
Performance characteristics:
After completion of the metal aggregate wear-resistant floor has the following characteristics:
1, high wear resistance;
2, permanent corrosion-resistant;
3, reduce dust;
4, impact resistance
5, construction convenience;
6, metal aggregates have different options (such as tin-titanium alloy aggregate)
7, rich colors (cement color, green, red, gray, yellow, etc.)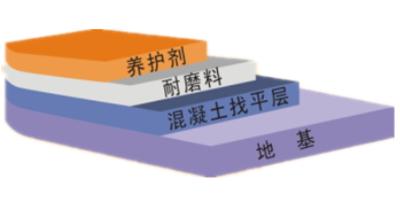 Service life:
Life expectancy: with the concrete ground synchronization
Construction Technology
1, leveling the horizon leveling, the aggregate evenly spread on the leveling layer;
2, two evenly spread wear-resistant aggregate. Mention pulp and trowel
3, saw the concrete in the appropriate position, make expansion joints, and caulk;
4, curing curing the ground.
Technical Index
project

index

Non-metallic aggregate type Ⅰ

Metallic aggregate type Ⅱ

Wear (gear method)

≤650

≤450

Compressive strength

3d

≥49.2

≥50

7d

≥60

≥65

28d

≥80

≥90

Flexural strength

≥11.5

≥13.5

hardness

7.0±0.5

8.0±0.5

Oil resistance

Three-year strength of the oil bubble is not reduced, paint <0.3mm (including impermeability)

Corrosion resistance

Standard corrosion test of aggregate, 42d natural potential constant positive, the stability value of +50 mm (S.C.E), the maximum value of +120 mv (S.C.E) cement test, 5% NaCI solution immersion, 2 years and 3 months without rust.

Skid resistance

Same as ordinary cement floor

floor