Epoxy mortar self-leveling floor Product profile:
Epoxy Self-leveling Floor is a kind of ground construction technology. It is made of high grade epoxy resin and good additive of high quality Curing Agent. After pouring into the ground, the material can flow according to the uneven state of the ground. Automatic leveling of the ground, soon drying, the solidified ground will form a smooth, flat, seamless new base. In addition to the leveling function, epoxy mortar self-leveling floor can also prevent moisture, antibacterial, this technology has been in the clean room, Sterile rooms and other precision industries are widely used.

Epoxy Mortar Self-leveling Place of application:
★Space, aviation, such as dust and aseptic high degree of specialization.
★GMP pharmaceutical plants, hospitals, blood products, such as dust-free rooms, precision machinery, microelectronics manufacturing plants, mechanical and chemical comprehensive performance requirements in the region.
★Electronics, electrical appliances, communications, hospitals, biological workshop;
★GMP drugs in aseptic purification workshop, laboratory;
★Precision, freezer and other factory floor;

Epoxy Mortar Floor Material Product characteristics:
Smooth surface, beautiful, mirror effect;
No solvent, no smell, no pollution, no poison;
Acid-resistant, alkali-resistant, chemical resistance and other properties;
has good resistance to moisture, salt mist, oil and organic solvents.
Wear resistance, pressure resistance, impact resistance, high temperature resistance, waterproof, a certain degree of elasticity;
The surface layer is constructed once, which is quick and convenient.

Drying time,H
Surface trunk(H)≤6
get right on the job(H)≤24
Bending strength,Mpa
≥7
Tensile strength,Mpa
≥9
Compressive strength,Mpa
≥85
Shaw hardness
≥75
Leveling,cm
≥5min
Wear resistance: (750g / 500r weightlessness)
≤0.02
Resistance to 10% sulfuric acid
144h nosigchng
Resistance to 10% sodium hydroxide
144h nosigchng
Resistant to 10% saltwater
48h nosigchng
Gasoline fastener 120#
endure
adhesive strength ,Mpa
≥2

Construction procedures:
1)bottom coating:
1. Use Solvent-free Epoxy Floor primer: mix the main paint and curing agent in proportion and stir well;
2. roller roller coating uniform, no leak painting;
3. Brush brush on door, corner, foot, machine foot, etc.
2)medium coated mortar:
1. Use solventless epoxy paint: mix the main paint and curing agent in proportion and mix well with 40100 mesh quartz sand;
2. Full scrape with the batch knife for 1 and 2 times;
3. After curing, polish the defects, such as knife marks, and clean up.
3)putty layer:
1. Use solvent-free epoxy paint: mix the main paint and curing agent in proportion and add appropriate amount of filler (such as quartz powder, talc powder) to mix evenly;
2. Approve 1-2 times with a batch knife, with emphasis on filling holes in the ground;
3. After curing, clean up the defects with vacuum cleaner, chicken hair Zen, dry wet towel and so on.
4)closed layer:
1. Use solvent-free epoxy floor paint, mix in proportion and stir evenly;
2 . The batch knife shall be used for the closed batch adjustment .
5)surface coating:
1. Use solventless epoxy self-leveling topcoat, mix the main paint and curing agent in proportion, stir evenly;
2. Self-leveling with a prepared trowel or spraying with an airless spray machine.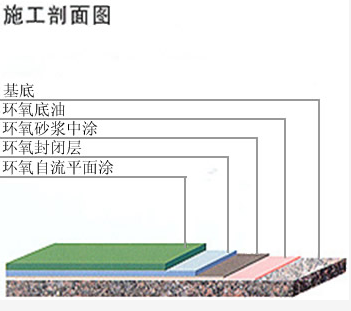 Looking for ideal Epoxy Self-leveling Floor Manufacturer & supplier ? We have a wide selection at great prices to help you get creative. All the Epoxy Mortar Self-leveling are quality guaranteed. We are China Origin Factory of Epoxy Mortar Floor Material. If you have any question, please feel free to contact us.
Product Categories : Floor Coating Series > Epoxy Mortar Self Leveling Floor